A Guide to Cut Out Dresses: Styling Tips & Tricks
How To Style a Cut Out Dress
Posted • Dress for a Night • Deisgner Dress Hire
---
Cut Out Dresses have always been on trend. Cut outs have become an elegant wardrobe staple that elevates any simple or detailed outfit. You might see all the trending cut out dresses at the moment and think, how do you style a cut out dress? In this guide we will give you all the tips and tricks to make any cut out dress look stunning on any body type.
Cut out dresses are dresses that feature cut out sections in the fabric to expose parts of the skin. Cut outs can be found at any region of the garment from the shoulders, waist, hips, bust and the back.
Can You Wear a Cut Out Dress to a Wedding?
Absolutely! Cut outs elevate an outfit no matter the placement. The only rule when attending a wedding is to make sure your wedding guest dress is not white.
If you are attending a more conservative wedding, cut out dresses are still acceptable, but beware of its placement in showing too much skin.
What Bra to Wear with a Cut Out Dress?
---
How to Wear a Cut Out Dress
Aje Myriad Cut Out Mini Dress
If you want to opt for a mini dress this is the perfect option for you. The Aje Myriad Cut Out Mini Dress is the perfect mini dress to wear for a cocktail, or formal daytime event. The puff sleeves, intricate ruching detail and voluminous skirt make this unique style a statement piece. This dress features a cut out on the side waist, which elevates this style. We recommend styling with nude accessories and minimalistic jewellery to ensure the dress is the statement piece. Step out of your comfort zone with this gorgeous dress at your next event.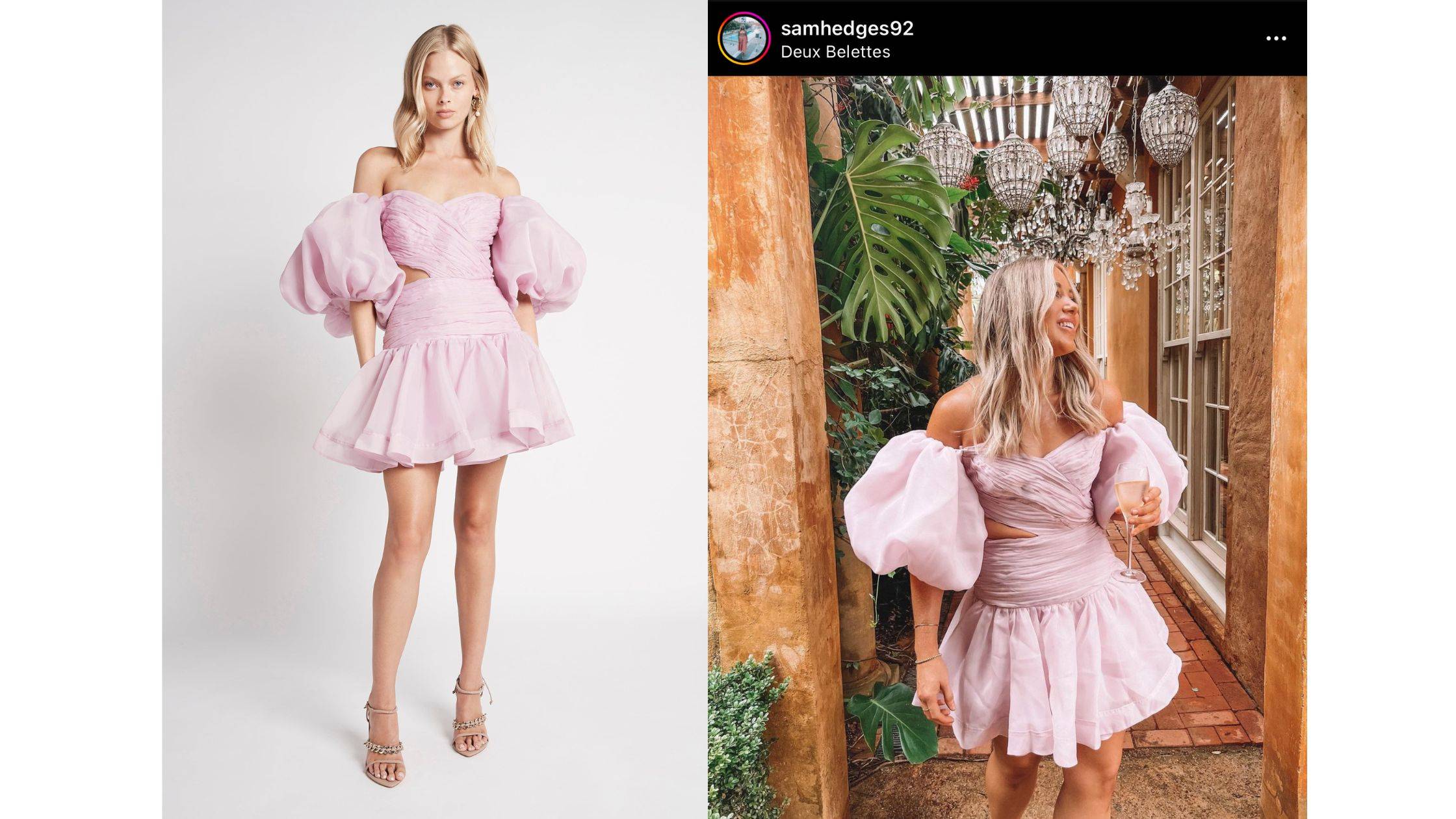 The House Of CB Baby Dress is the perfect party dress! It is a super fun and feminine mini dress that is lightweight and very comfortable. The Baby dress is versatile as you can wear the sleeves on the shoulders or off. The cutouts on the side at the hips adds a unique feature making everyone who wears it feel sexy and confident. We recommend styling with neutral tones including black or white, and minimalistic jewellery to ensure the attention is on the dress. We love this dress for dinner dates, party nights and cocktails with the girls.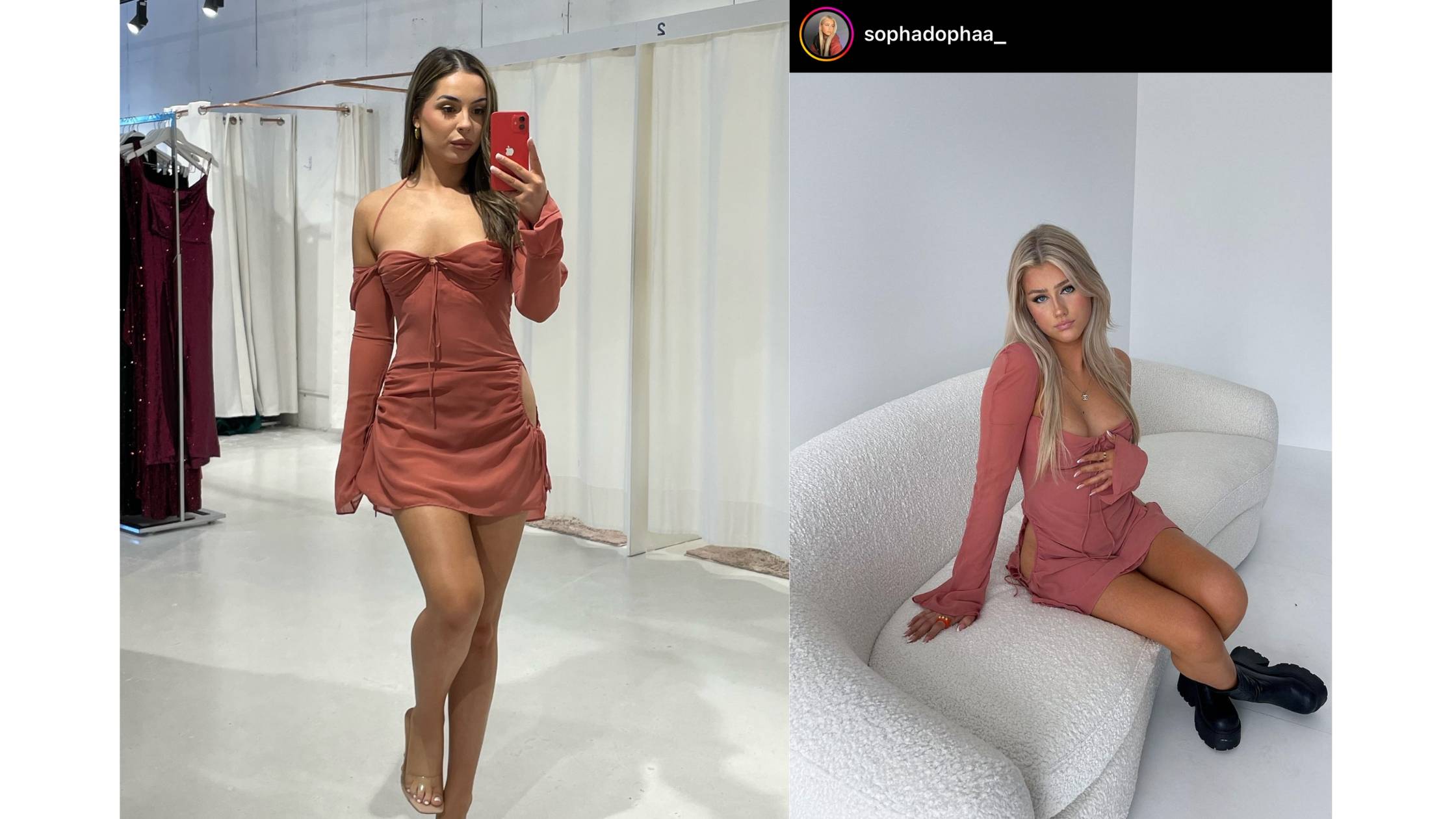 L'idee Theatre Mini Dress
The Li'dee Theatre Mini Dress is a unique, fun and playful style. The dress features a fitted waist and flared umbrella skirt which gives a flattering silhouette, as well as a rounded neckline and soft flared sleeves for a touch of elegance. With a cut out at the bust, this dress is elevated to a whole other level. This dress is simple yet can be accessorised in every which way - choose a pop of colour, keep it simple with neutrals, the world is your oyster! Whether you're celebrating a birthday, invited to a wedding, or just enjoying a night out on the town, this dress is sure to turn heads, especially with its stunning midnight blue colour.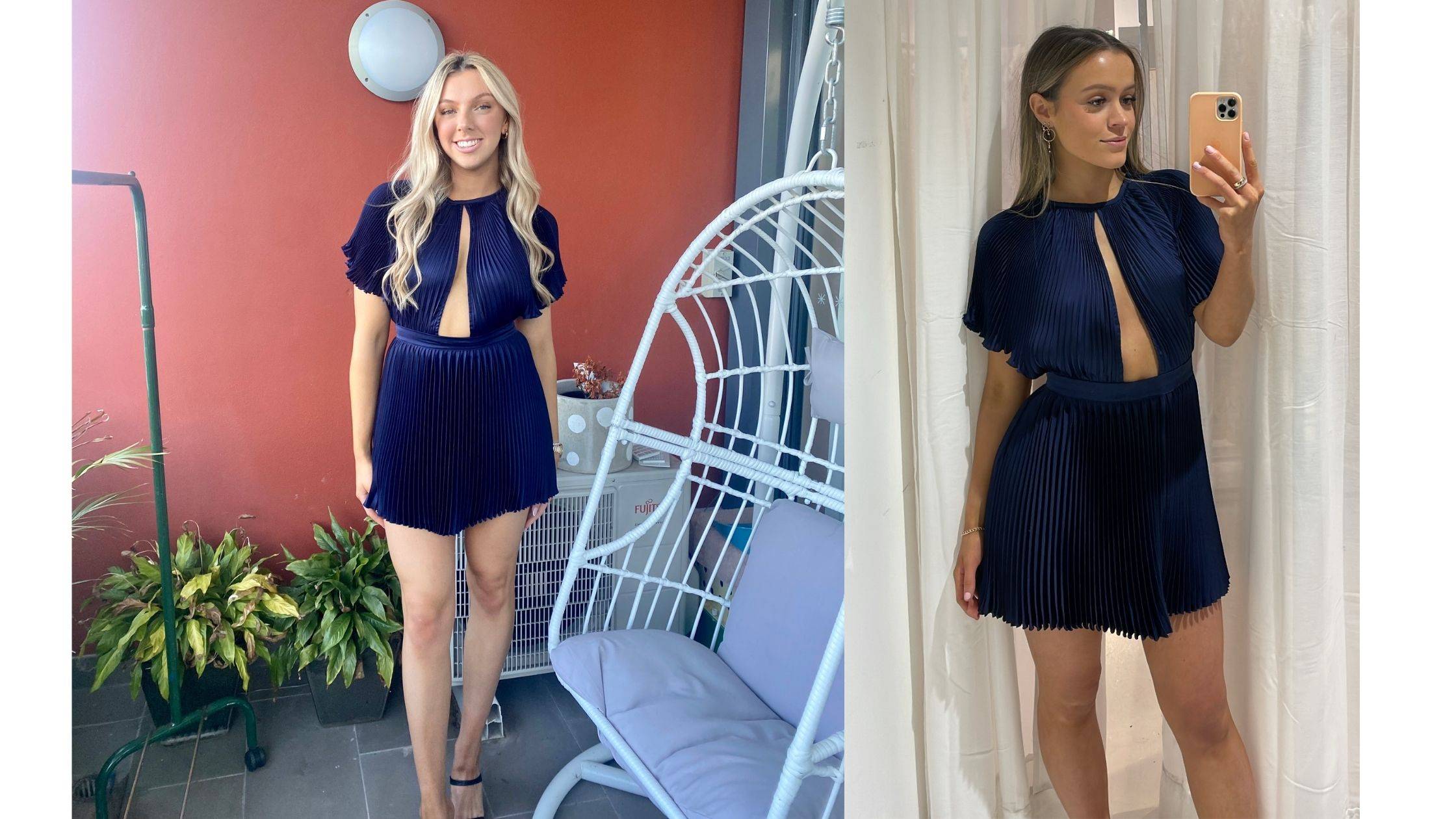 Zimmermann Aliane Ruffle Midi Dress
The Zimmermann Aliane Ruffle Midi Dress is crafted from linen and cotton. The dress features a self tie bow detail at the front and ruffled trimming alongside the shoulders, leading to a racerback with cut-out details. The cut outs at the waist and back, accentuate the hourglass figure. In the warm orange colour, this dress is best paired with neutral tones or even chocolate brown accessories. We love this linen fabric as it adds a sense of luxury, making it perfect to wear to casual or cocktail events.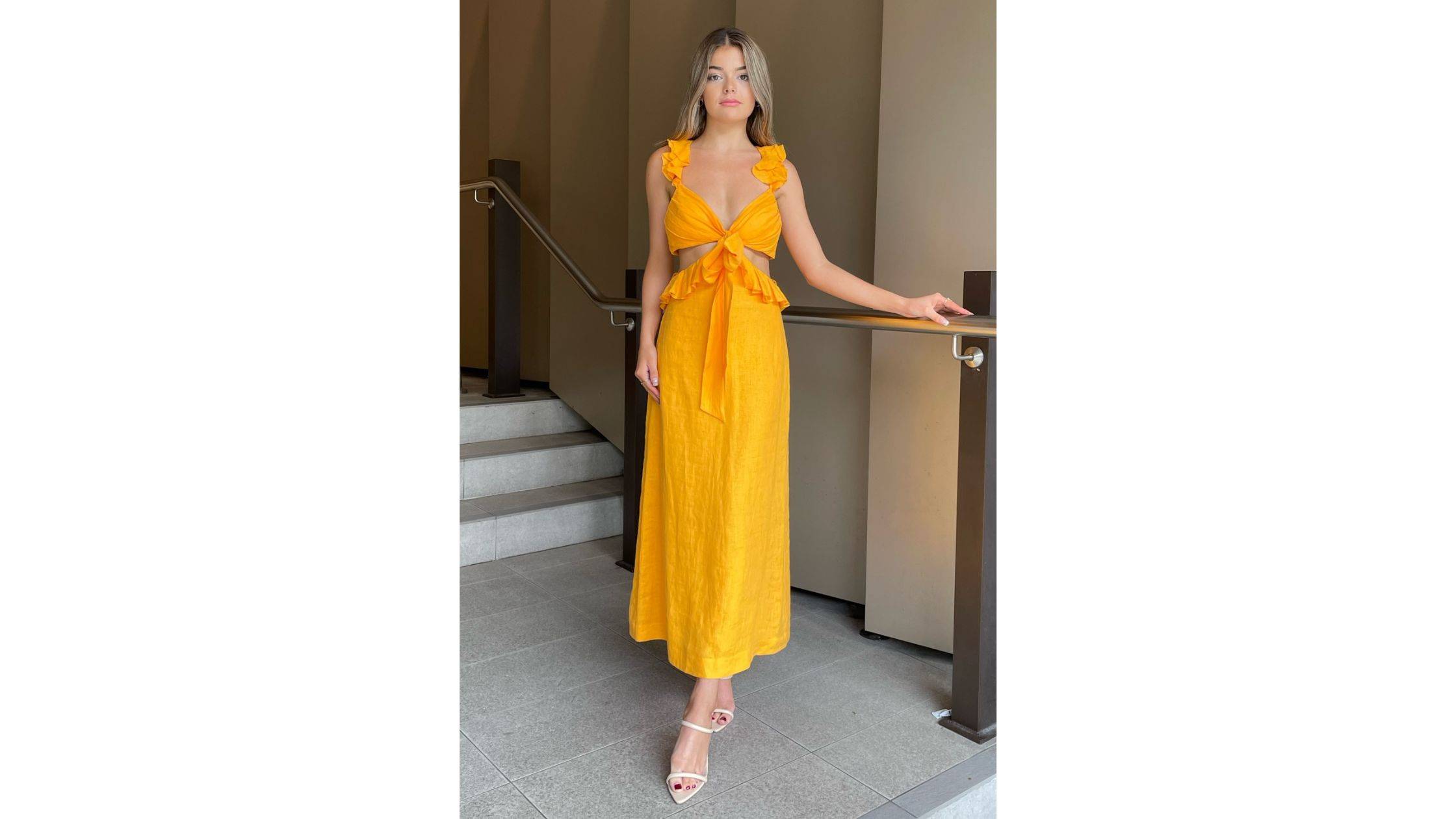 Sir The Label Rei Knot Dress
The Sir The Label Rei Knot Dress is a gorgeous linen style that features an on trend cut out at the waist with a knotted tie on the waist and shoulder. In a beautiful beige with rusted orange floral print, this dress looks gorgeous on all skin tones and hair colours. We love this dress styled with neutral tones such as similar colours in which matches the dress. Jewellery should be minimalistic as it is a linen style, making it more appropriate for casual event-wear.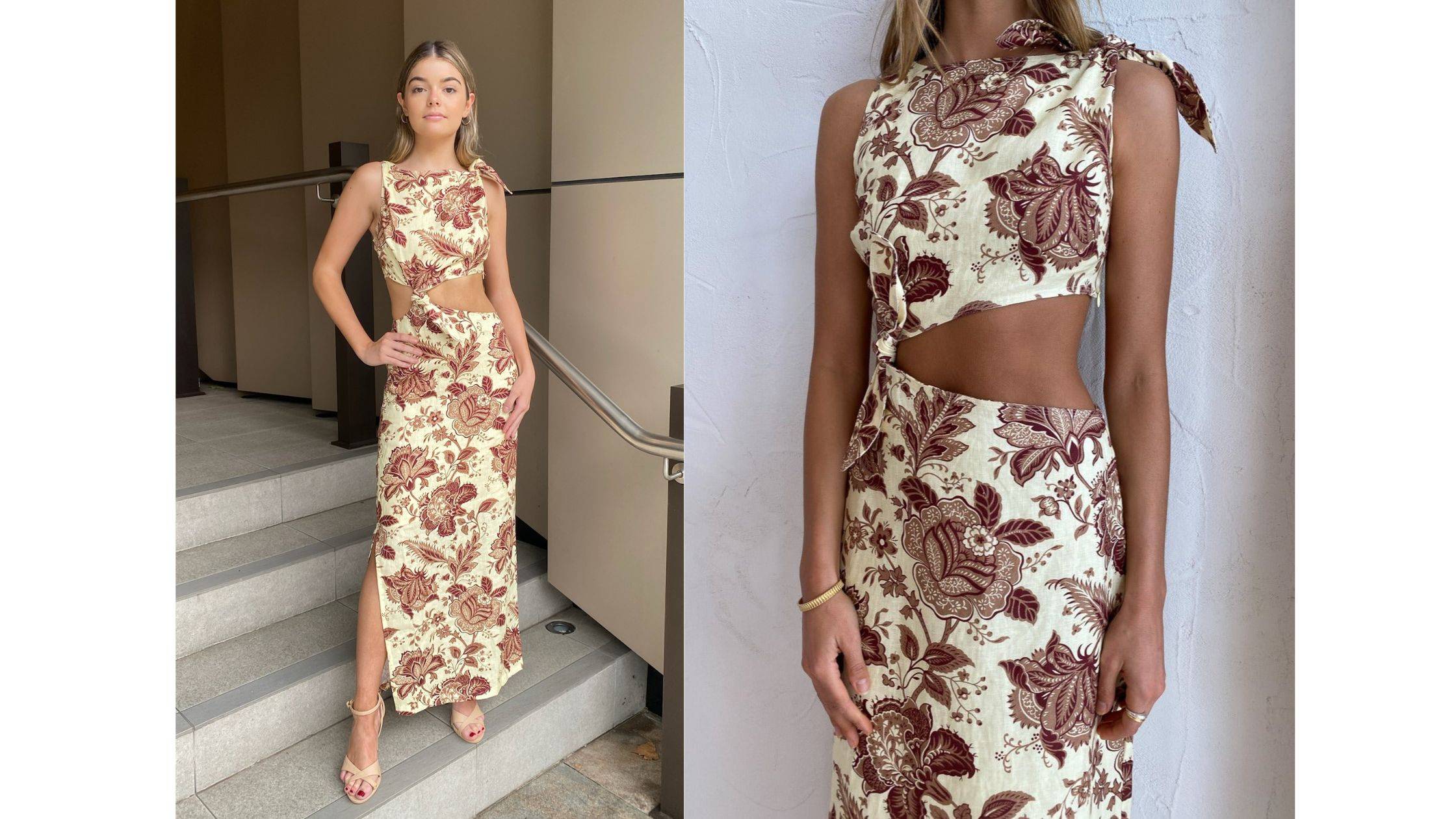 Aje Caliente Tiered Cut Out Dress
The Aje Caliente Tiered Cut Out Dress is an asymmetric midi dress in a beautiful daisy yellow colour. This linen dress is perfect for a more casual event as it is as formal yet still makes you look put-together. The daisy yellow is perfect for the summer season and this dress exudes elegance and sophistication. The cut out under the bust elevates this dress so well just by the smallest detail. This stunning dress makes the perfect daytime event outfit, which could be styled with pops of colour or neutral accessories.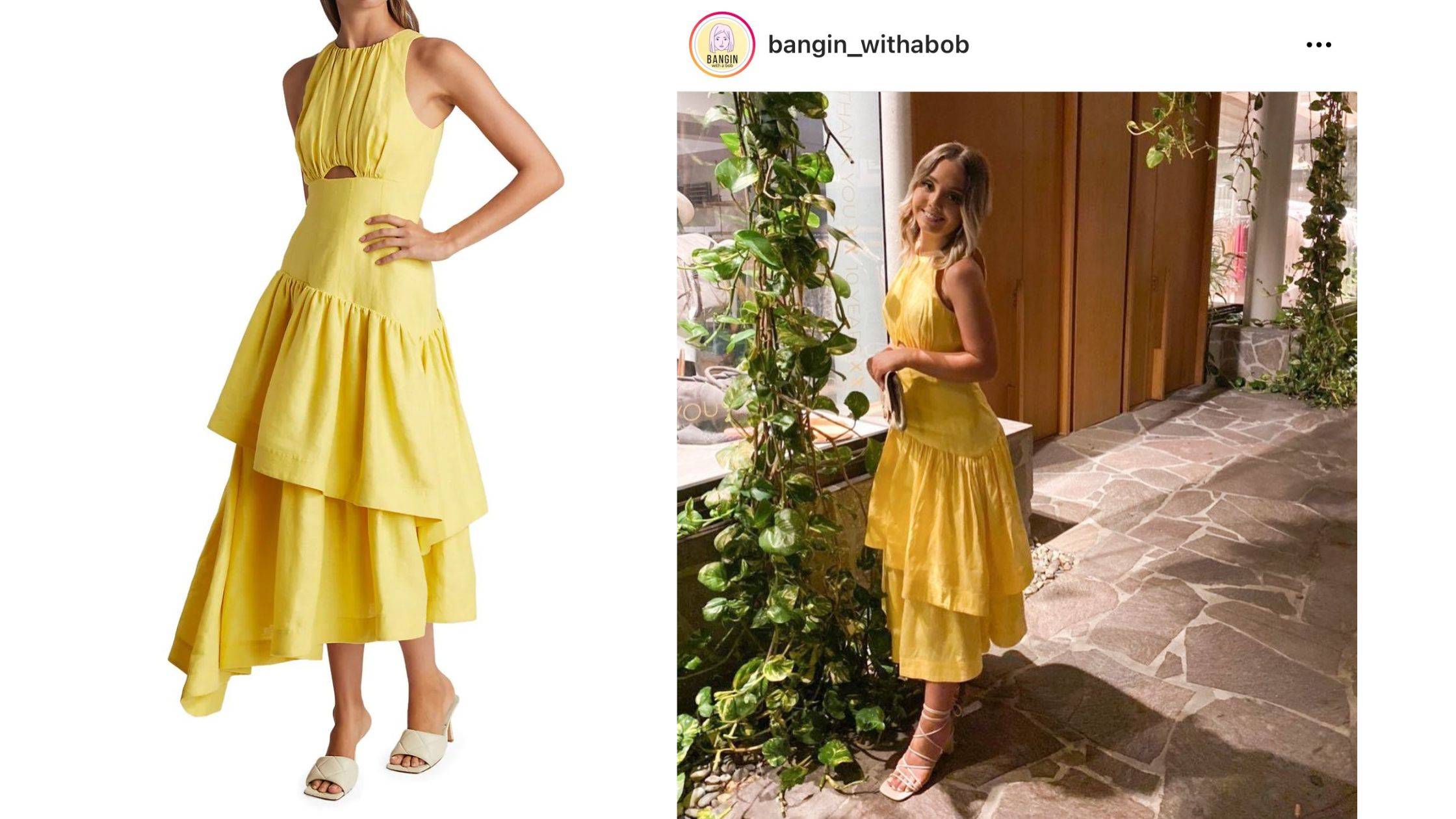 ---
The Ivona Skelo Vivia Dress is all about femininity and sparkle. The definition of simple but with a twist, this gorgeous dress features diamonte cut-outs which adds a whole other level of sophistication and elegance. This trending style with statement cut outs has been the moment this season and we are here for it. The definition of simple but with a twist, which is why we know you will love this style as much as we do. A black dress is something you can accessorise in whichever way you desire - add colour, or keep it simple with neutrals, choose bold jewellery or keep it minimalistic, anything goes!
This style is also available in white.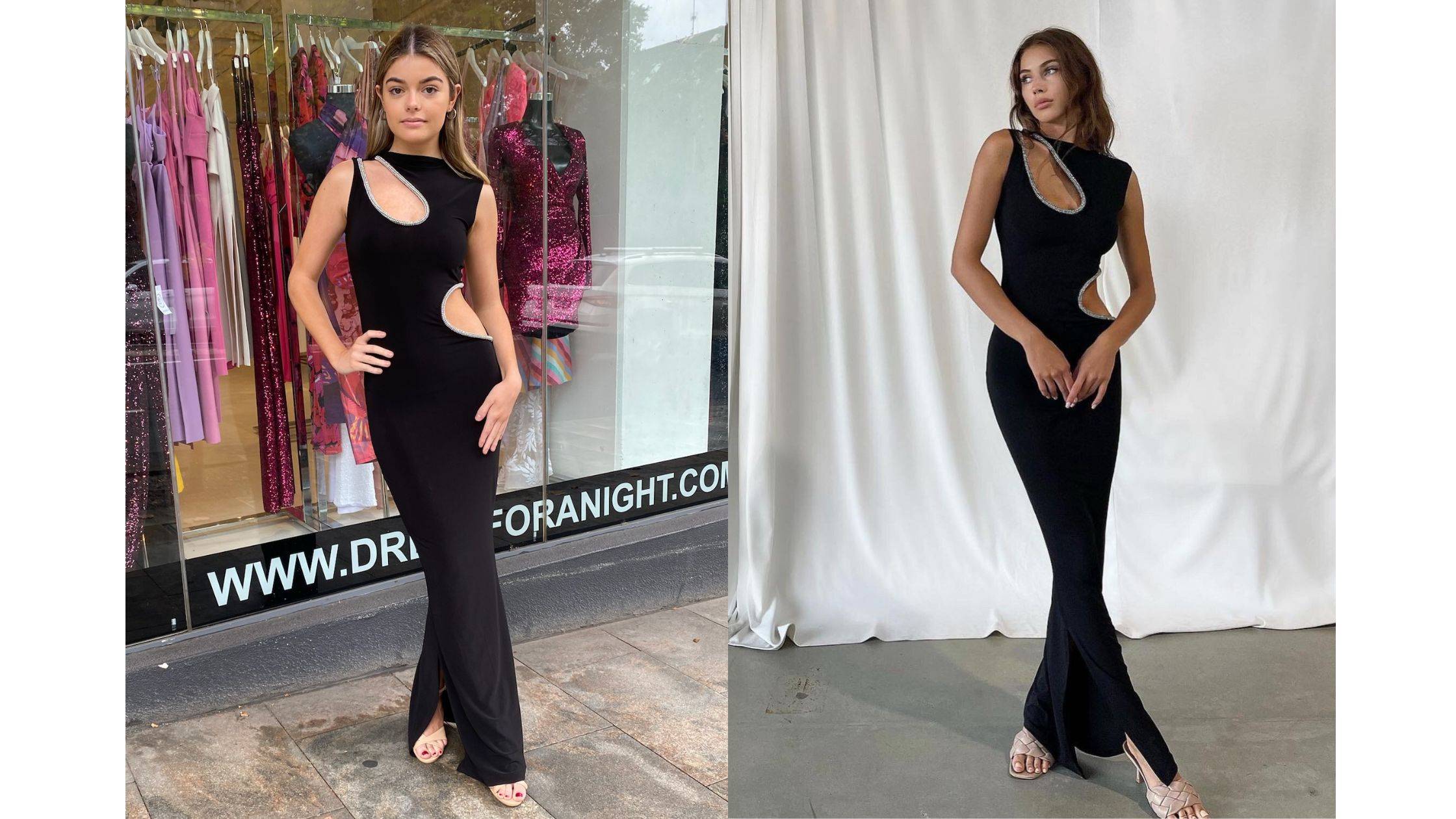 The Nookie Diaz Cut Out Gown is a gorgeous sequin gown featuring cut outs at the waist, an open back, plunging neckline and thin straps. We are loving this on trend design, and it is even more gorgeous in Nookie's famous stretch sequin. This dress is a statement, especially in the stunning spearmint green, which compliments all skin tones and hair colours. Green can be paired with pops of colour such as pink, but you can never go wrong with neutrals to ensure the dress is the statement piece.

This style is available in spearmint and black.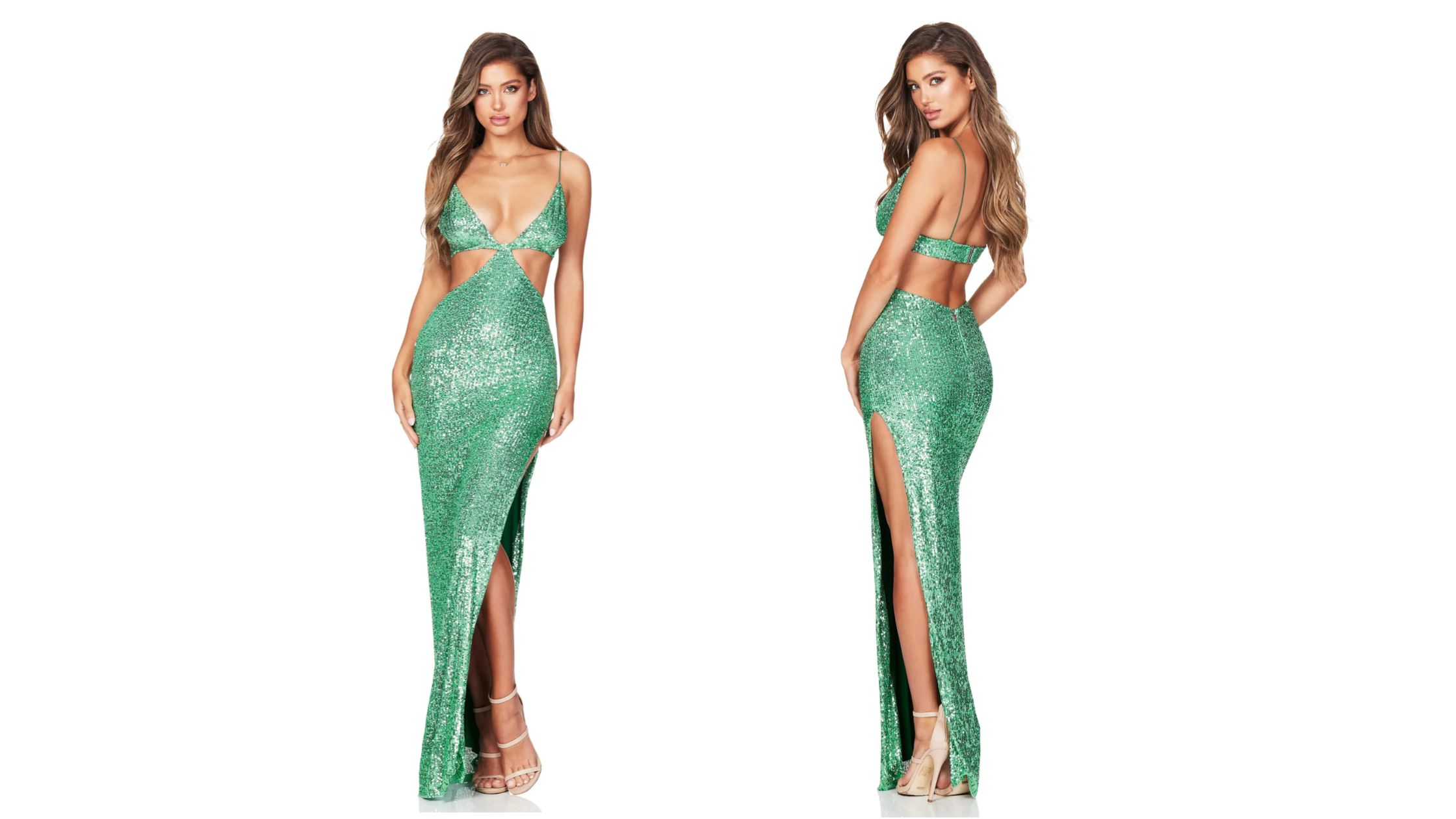 Bec + Bridge Carrie Halter Maxi Dress
The Bec + Bridge Carrie Halter Maxi Dress is a stunning effortless statement style. The elegant satin fabric elevates this dress making it perfect for semi-formal dress codes. The open back and underbust cut outs give a flattering silhouette and the two-tone yellow/gold makes this dress perfect for summer events. The simplicity of this style makes it easy to dress up or down to be best suited for your events dress code. This gorgeous dress should definitely be paired with neutral tones and minimalistic jewellery to maintain the class and elegance that this dress brings.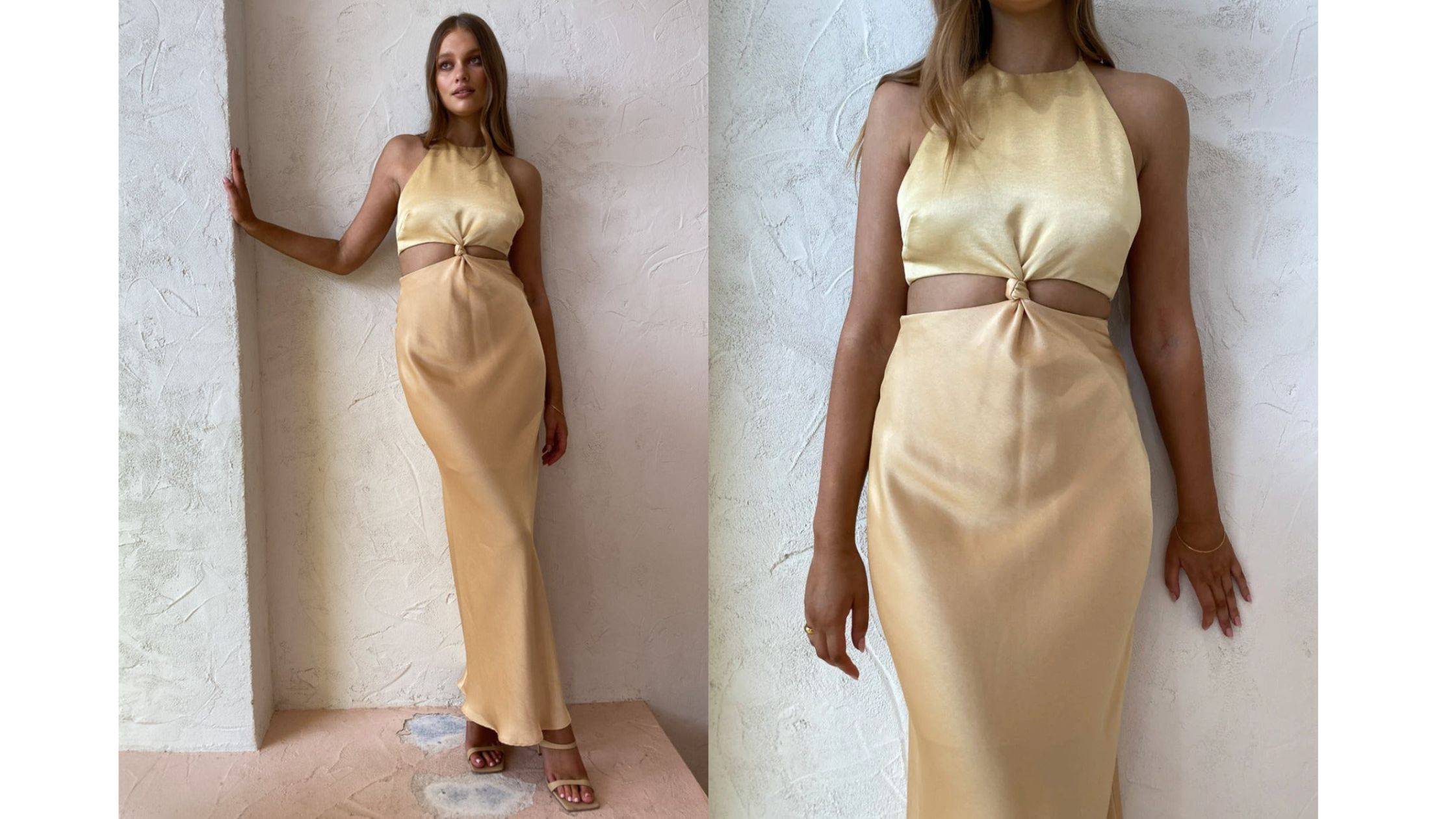 ---
A cut out dress is an easy option for an event because its detailing elevates the style, that the stress of finding accessories is no more as they can be kept neutral and simple. It is your turn to try on that dress with cut outs and find an event to make a statement to. If you're loving this trend but cannot commit to an expensive purchase, renting is the way to go! At Dress for a Night, you can hire all these dresses for a fraction of the retail price and stay on top of the trends without paying the hefty price! It is an efficient way to wear the dress but also reduce overconsumption in the fashion industry.