Yes, it's Spring, but are green dresses in at the moment?
Posted • August 30 • Dress for a Night • Designer Dress Hire
---
Are green dresses trending at the moment? Green dresses for the spring season are latest fashion trend. This colour can make you stand out in all the right ways and elevate your outfit for any occasion! From vibrant neons to rich emeralds, everyone is loving a green dress moment, and we know you will too.
Green dresses can be styled in a number of ways. Accessoring a green dress can be intimidating, but we will give you all the tips and tricks on styling a green dress to make your outfits for spring look put together. Now, lets dive in to see what colours go with green. 
What colours go with emerald green?
Green's complimentary colour is red. To compliment emerald greens, rose or ruby red accessories would be the perfect addition to your look.
Emerald greens work well alongside with other greens. Style your green dress with block colours for an elevated look. You can also pair emerald green with other shades of green such as lime or sage for a softer match.
To make your green dress the statement piece, we recommend accessorising with neutral tones to make the dress colour pop. Styling with nude, beige, white or black accessories is an easy and simple way to style an emerald green dress.
What colours go with sage green?
Because sage green is a soft colour, finding the right accessories can be difficult. Do you match the dress with soft colours or vibrant? We recommend pairing sage green with neutral tones as you can never go wrong. For a soft, yet elegant look, nudes, beiges, whites and blacks are always a safe option.
If you do want to add a little extra something to your sage green dress, we recommend metallics rather than vibrant colours. Choosing gold or silver accessories will compliment your green dress and have you looking and feeling like a million dollars.
---
What dresses are trending now?
L'idee Renaissance Split Gown
The L'idee Renaissance Split Gown in bright green, is the perfect dress for your spring events. The Renaissance Split Gown is having its moment this spring and we can't get enough! With the famous L'idee pleating in the umbrella skirt and halter, you will be looking sleek and elegant with this dress. The open back feature is extremely flattering and an overall bonus is that this dress is super comfortable! The L'idee Renaissance Gown also comes in the colour sea green, for a look with no split.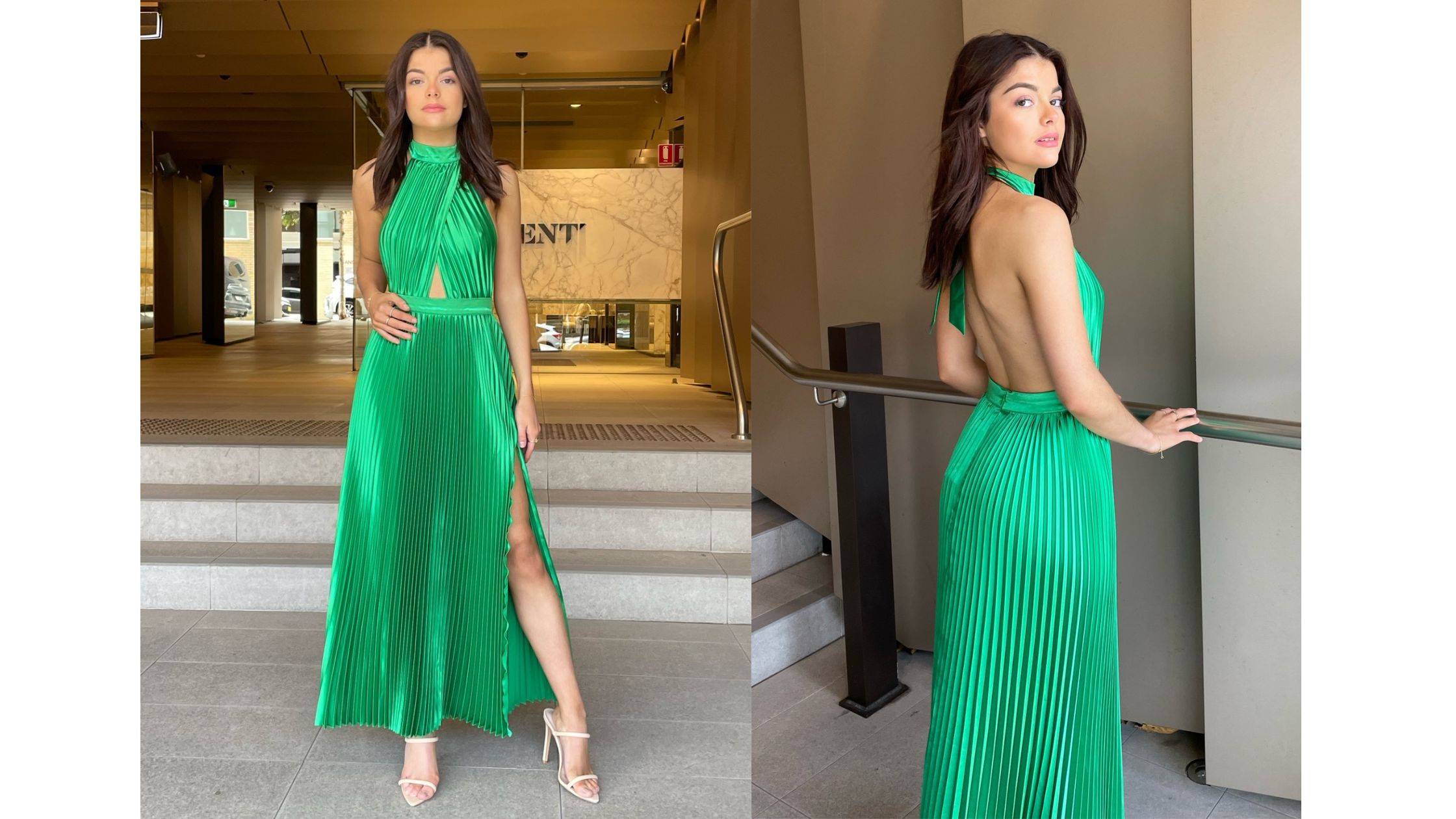 Rebecca Vallance Dionne Midi Dress
The Rebecca Vallance Dionne Midi Dress is a beautiful a-line design in a vibrant green. With a soft-cupped bodice and thick adjustable straps, this dress is made for comfort. We love this style for weddings, cocktail parties or formal events in the spring season. Experiment with your style by adding colourful accessories or play it safe with neutrals.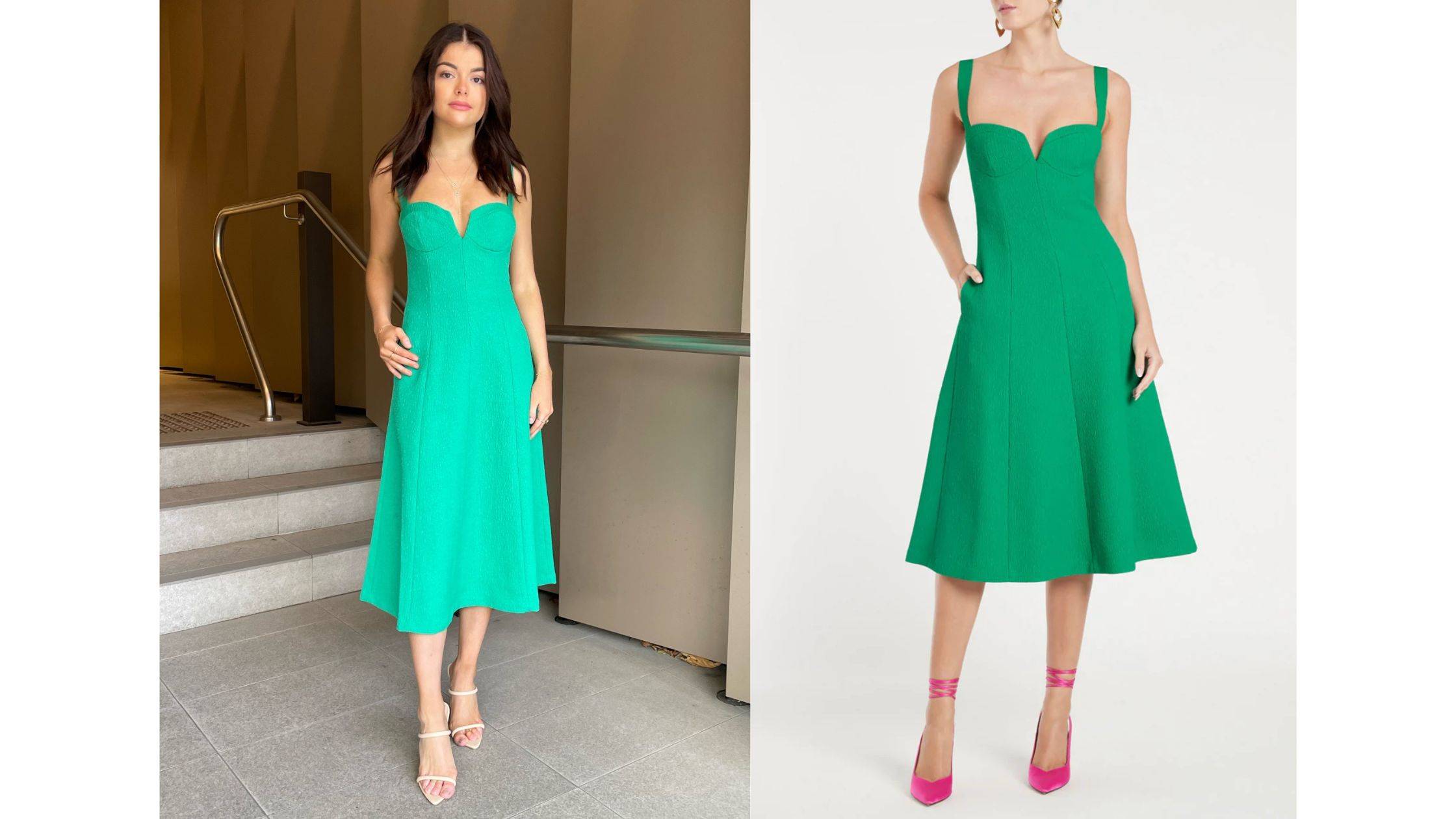 The Lia Stublla Lillia Gown is one we know you will love. This stunning gown is crafted from the highest quality satin in the most beautiful emerald green, perfect for the spring season. The dress features intricate pleates and a corset bodice that give a flattering hourglass silhouette. Whether you're looking for a show-stopping ball dress or a simply breathtaking formal gown, the Lillia is sure to turn heads.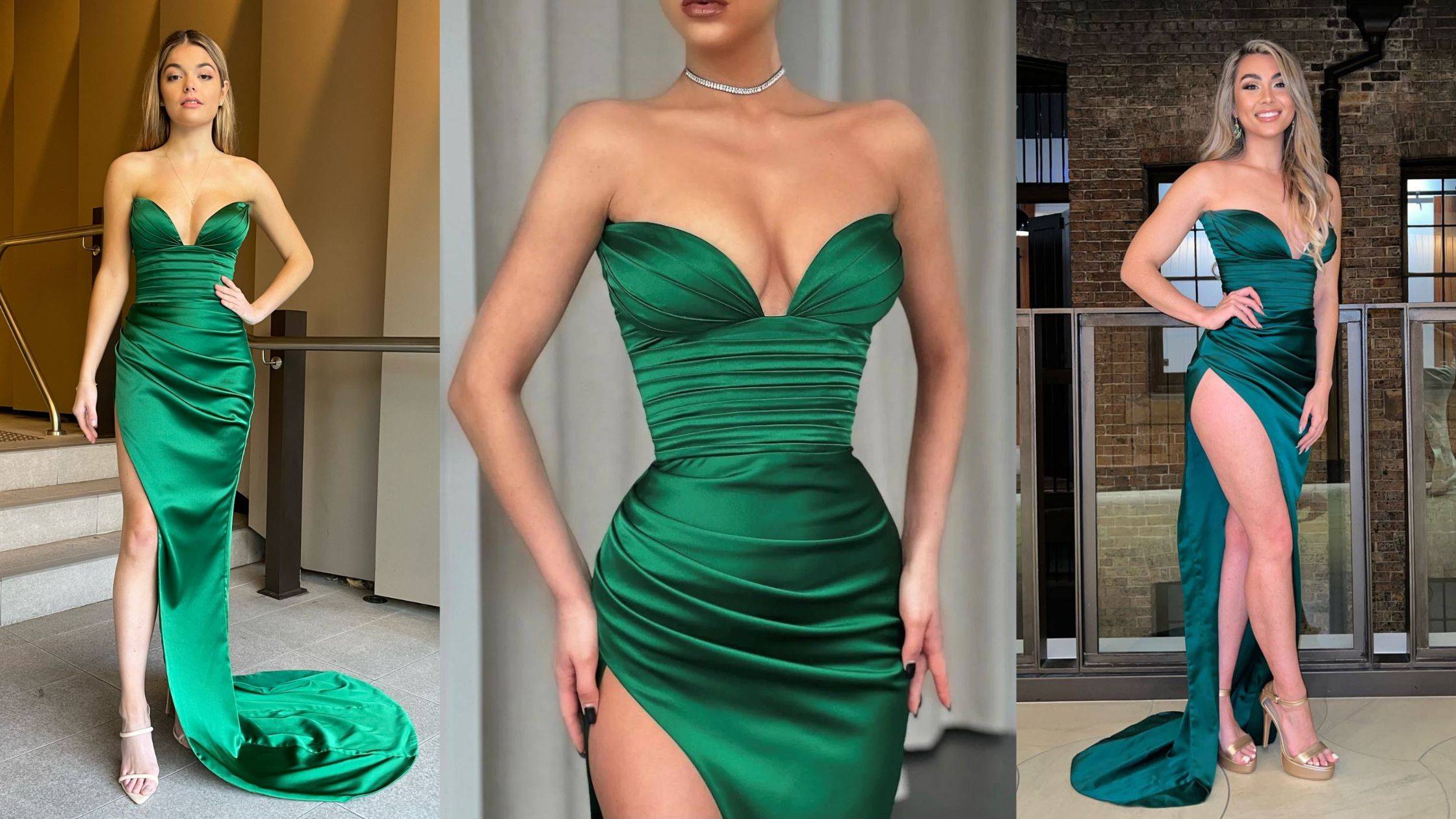 Bec + Bridge Julieta Maxi Dress
The Bec + Bridge Julieta Maxi Dress is a flattering formal event wear dress. The dress is crafted in a lime green, making it perfect for spring weddings. Featuring a twisted bandeau, thin straps and a leg split, this dress gives a flattering silhouette and an elegant look.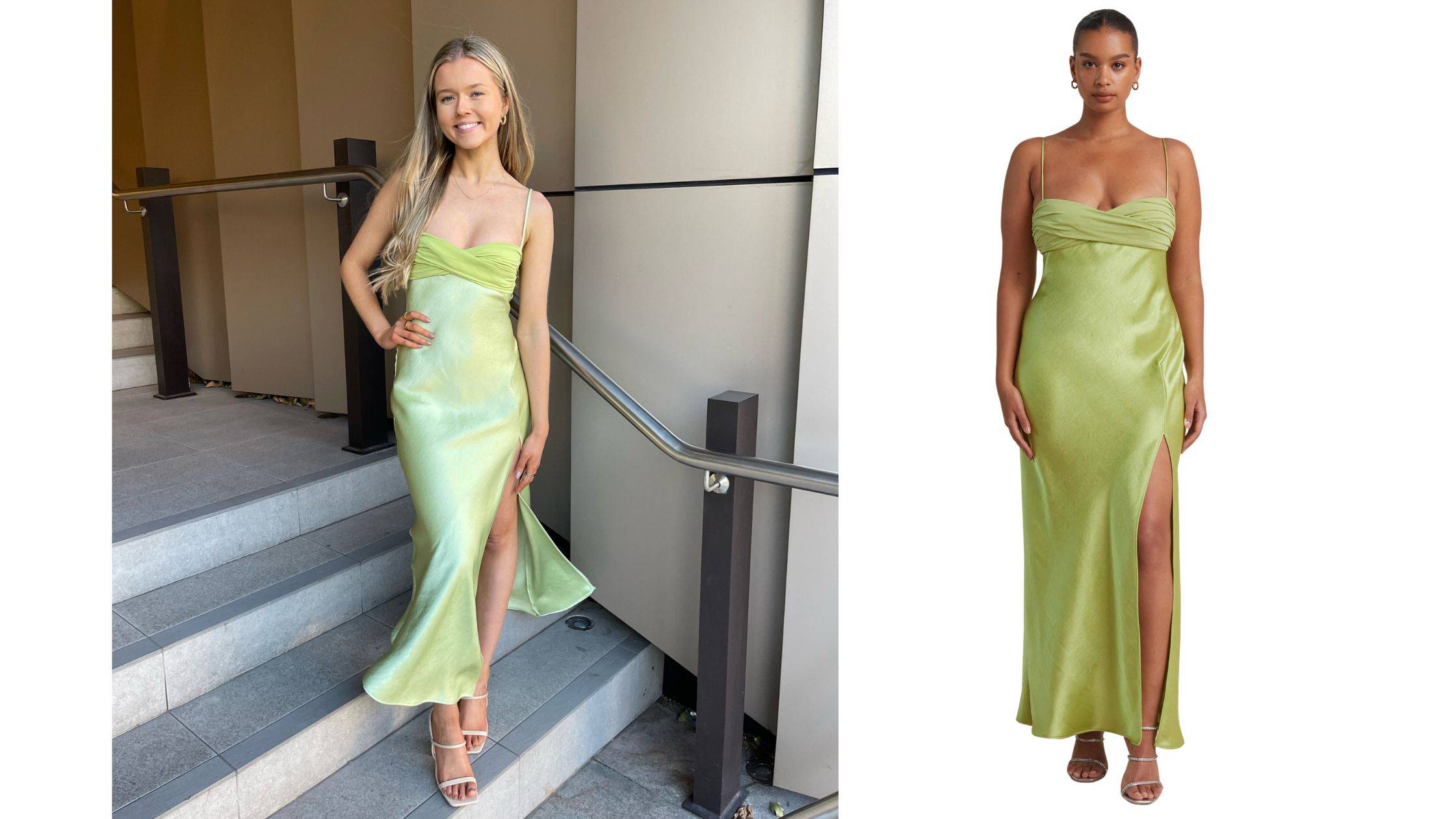 ---
---
Green Dresses for Certain Occasions
What to Wear to a Cocktail Party?
House of CB Lulu Drape Midi Dress
The House of CB Lulu Drape Midi Corset Dress is a beautiful one shoulder corset dress in a delicate sage tone. This dress is perfect for spring weddings, and corset dresses are also super trendy at the moment so why not jump on the trend while you have the chance! The midi length makes this dress suitable for cocktail events.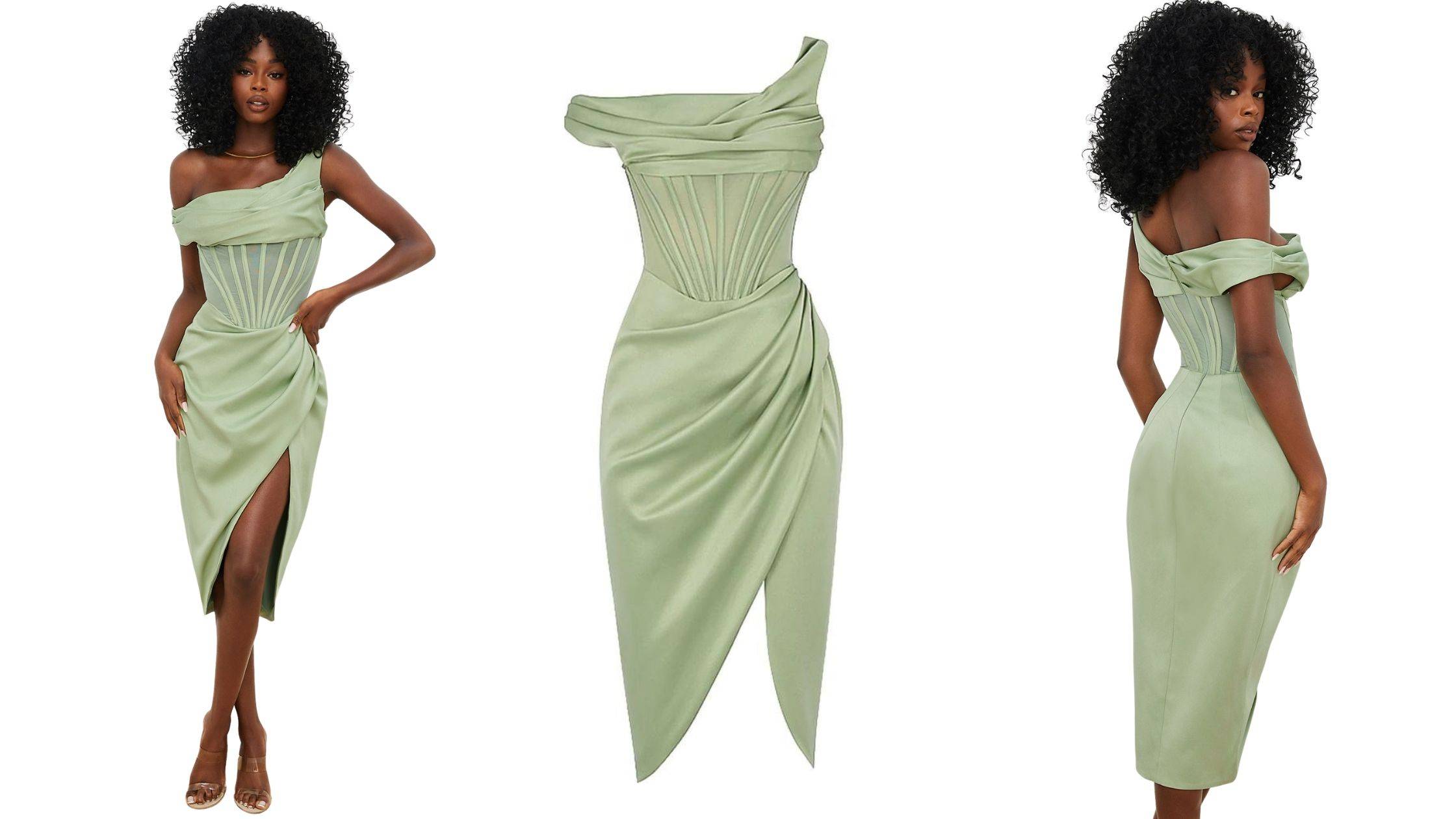 What to Wear to a School Formal?
The Lia Stublla Eviana Gown is a beautiful strapless gown featuring an asymmetric neckline with a corset bodice. This dress gives a stunning hourglass silhouette and we know you will love this dress for your next school formal or formal event. This gown is sure to turn heads and will leave you feeling glamorous.



What to Wear to a Black Tie Event?
The Lexi India Dress is crafted from a sage green satin fabric, featuring long bell sleeves that compliment the plunging neckline. This dress is the perfect dress for a colder day in spring. Being super comfortable and easy to wear, we know you will love this style as much as we do. Pair it with neutral accessories for a soft and elegant look.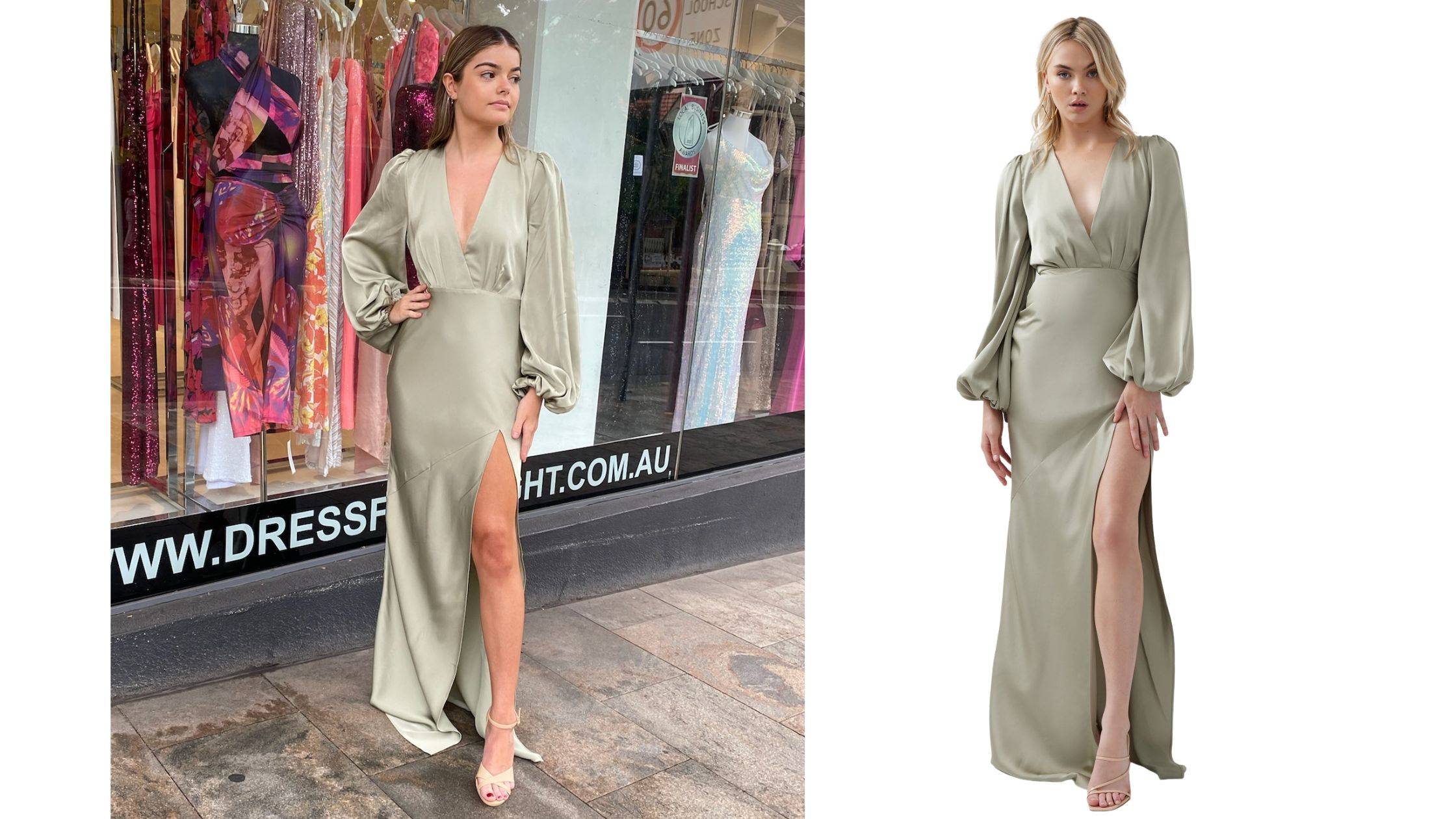 What to Wear to a Funeral?
Pasduchas Pinnacle Sleeve Midi Dress
The Pasduchas Pinnacle Sleeve Midi Dress is a modest, long sleeve mid-length dress that is suitable for events such as funerals. This dress is very comfortable which is all that you want. The dress code for funerals is darker colours, steering away from the bright and vibrant colours. This combat green is a suitable colour to match the dress code.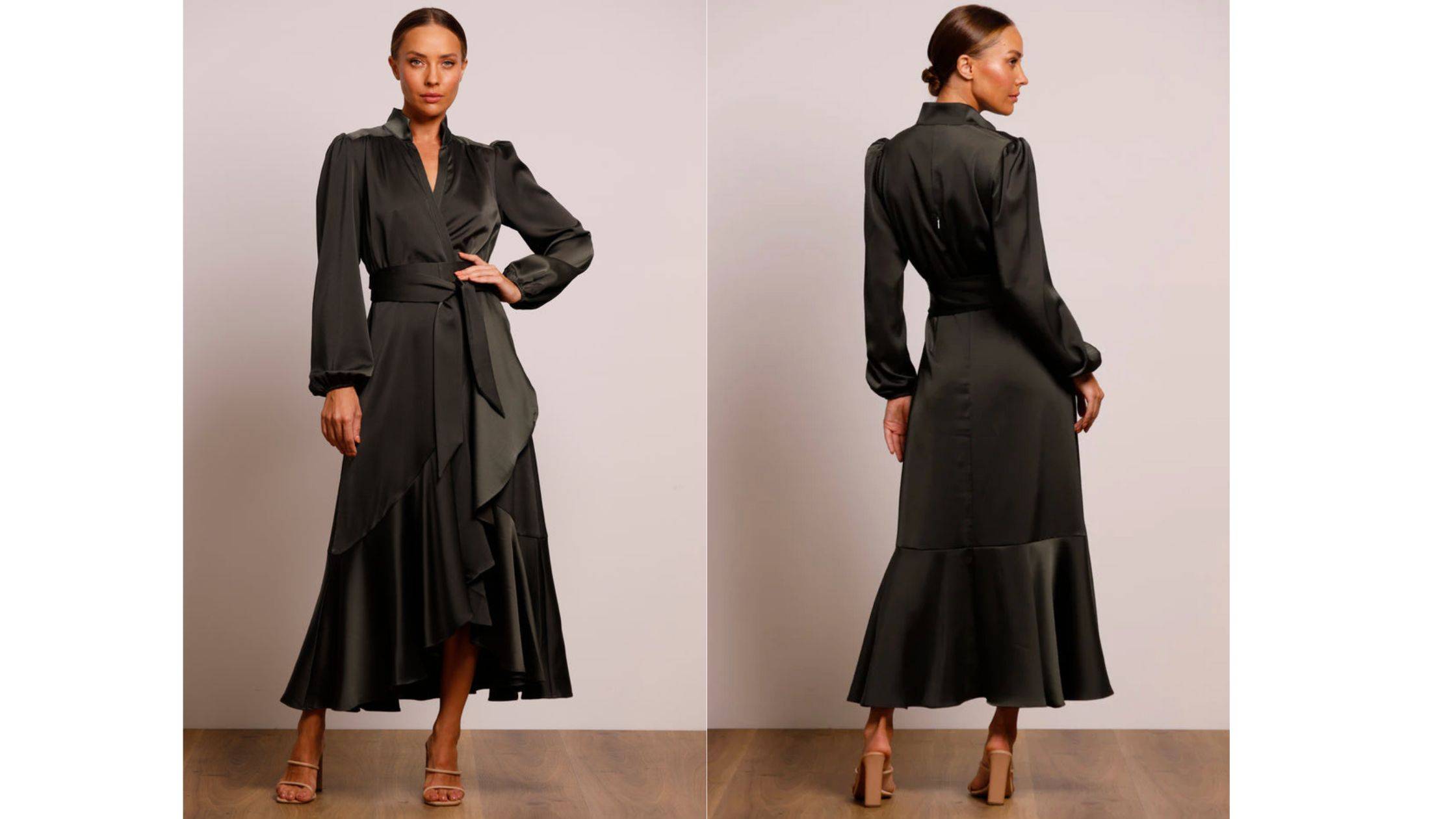 ---
---
Now that you have seen all the trending green dresses for the spring season, it is time to decide what shade of green is the best for you! Depending on your event, we have green dresses for every occasion as it is the colour of the season! You can hire all these dresses at Dress for a Night for a fraction of the retail price, so you can wear all the on trend pieces and save a bit of cash while doing so. Sounds like a win-win!