Bridesmaid Dress Ideas to Consider
Posted • December 19 • Dress for a Night • Designer Dress Hire
---
Is your wedding coming up and amongst all the planning, you need to figure out what dresses your bridesmaids will be wearing? Deciding on a bridesmaid dress can be difficult, as you need to take into consideration different styles, colours, and the opinions of the bridesmaids themselves. To make your planning less stressful, this guide will show you our favourite and most popular bridesmaid dresses that you cannot go wrong with.
---
Bridesmaid Dresses in Different Styles
It is your wedding, you have every say in the colour scheme and what you would like your bridesmaid dresses to wear. There is no right or wrong in choosing a colour, as long as everyone is happy. We recommend choosing colours that complement most skin tones for your bridesmaids, such as sage, blues, teals, or charcoals and blacks.
How to Choose a Bridesmaid Dress Colour
There are a few things to consider before you determine your bridesmaid dress colour. These things include, the colour of your bridal gown, the season of when the wedding takes place, skin tones, your venue and decoration colour scheme. It is best to choose a colour that complements all the elements above to ensure a seamless visual representation.
Are Black Bridesmaid Dresses Appropriate?
There is no rule on what colours should and should not be worn to a wedding. It is traditional that no one but the bride wears white, but there are no restrictions on other colours. Wearing black to a wedding may have been frowned upon, but in modern times it has become perfectly normal. Having your bridesmaids wear black dresses will create a beautiful contrast with your bridal gown - it is all about your vision and what you would like your colour scheme to be.
Do Bridesmaid Dresses have to Match?
No, your bridesmaids do not have to wear the exact same style of dress. Bridesmaid dresses in different styles is very common, as long as they have the same colour scheme or palette to create a seamless look.
Can You Hire Bridesmaid Dresses?
Hiring bridesmaid dresses is a fantastic idea for if you do not want to create another hefty expense for your wedding. At Dress for a Night, we rent formal dresses which can be used for your bridesmaids. Our bridesmaid dresses for hire allow for the saving of money while still having your bridesmaid dressed in designer formal dresses.
---
The Lexi Samira Dress is a fan favourite style for all formal and black tie occasions. A glamorous floor-length, one shoulder style made from a stretch satin. This style is extremely flattering and elegant, and makes the perfect bridesmaids dress due to its simplisicity and class. You cannot go wrong with this style for your bridesmaids as it comes in all different colours that flatter different skin tones, and are easy to match with wedding colour schemes.
This style is available in pink, burgundy, orion blue, black and white.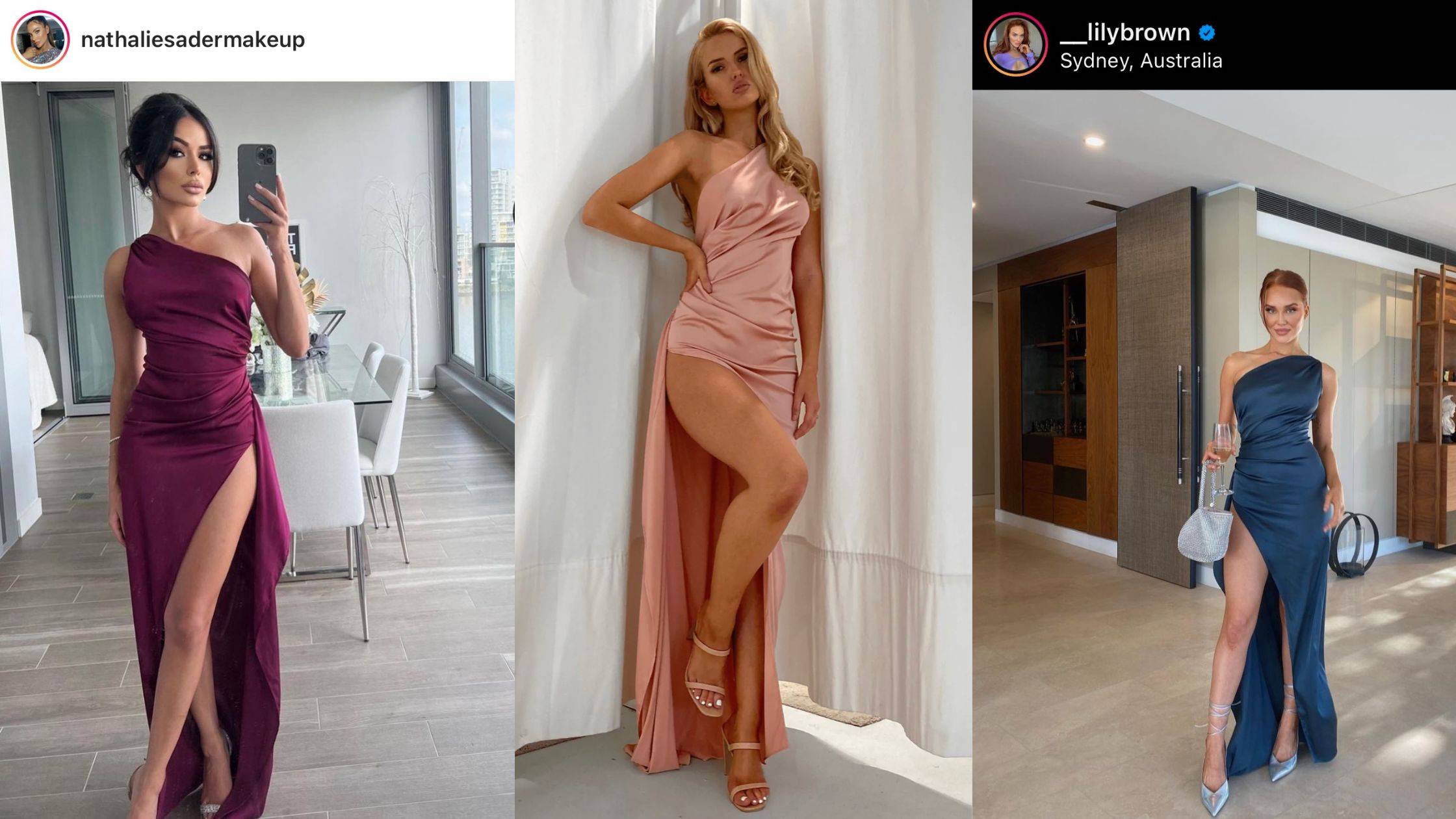 House of CB Adrienne Corset Maxi Dress
The House of CB Adrienne Corset Maxi Dress is cut from a high quality satin that drapes across the body. The built in corset allows for a flattering hourglass silhouette. This dress is all about luxury, making it the perfect bridesmaids dress. A simple yet elegant design that will have your bridesmaids looking gorgeous but also won't be outdoing the bride.

As seen below, @racheljdillon and her fellow bridesmaids wore the Adrienne Dress as their bridesmaid dresses, it is such a flattering style on everyone.



Bec + Bridge Moondance Strapless Dress
The Bec + Bridge Moondance Strapless Dress is one I'm sure you've all seen before as it was worn by icons Kendall Jenner and Bella Hadid as their bridesmaids dresses! In a beautiful seaspray blue, this dress is guaranteed to look amazing on all skin tones. This strapless dress flatters all body types and is the perfect simplistic, yet elegant dress for a bridesmaid.

Recreate Kendall and Bella's bridesmaids looks for your upcoming wedding, because you cannot go wrong with this stunning style.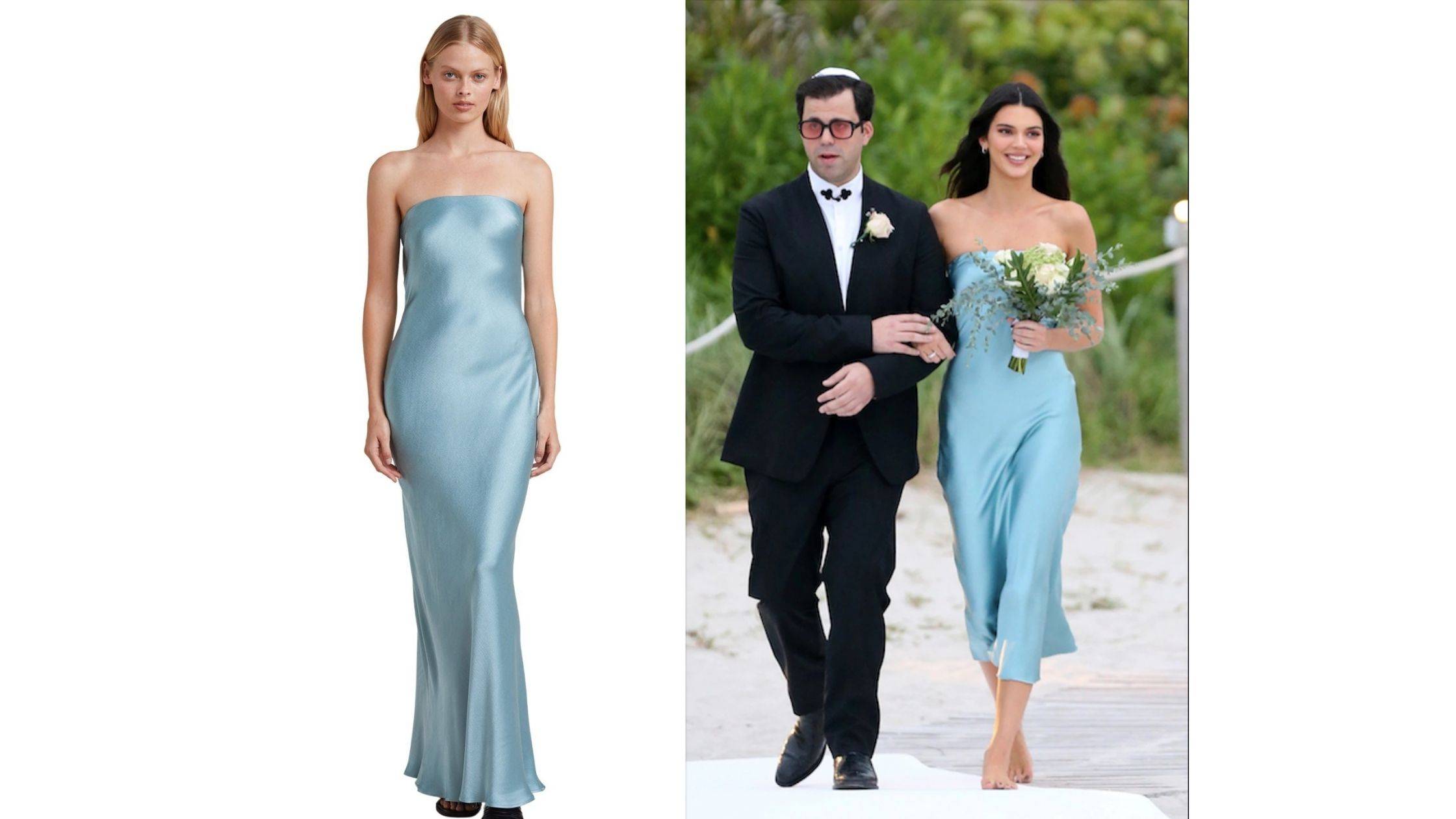 Aje Serendipity Reflection Midi Dress
The Aje Serendipity Reflection Midi Dress is a mid-length dress with a corset inspired waist, made from a glossy linen material. This style is perfect for those who want more coverage in a formal dress. This gorgeous dress makes a gorgeous bridesmaid dress as it elegant and classy but still practical for a night full of walking and dancing. We love this style and know you will too with its flattering and comfortable fit.

This style is available in colours blush, champagne and navy. All very popular colours for weddings.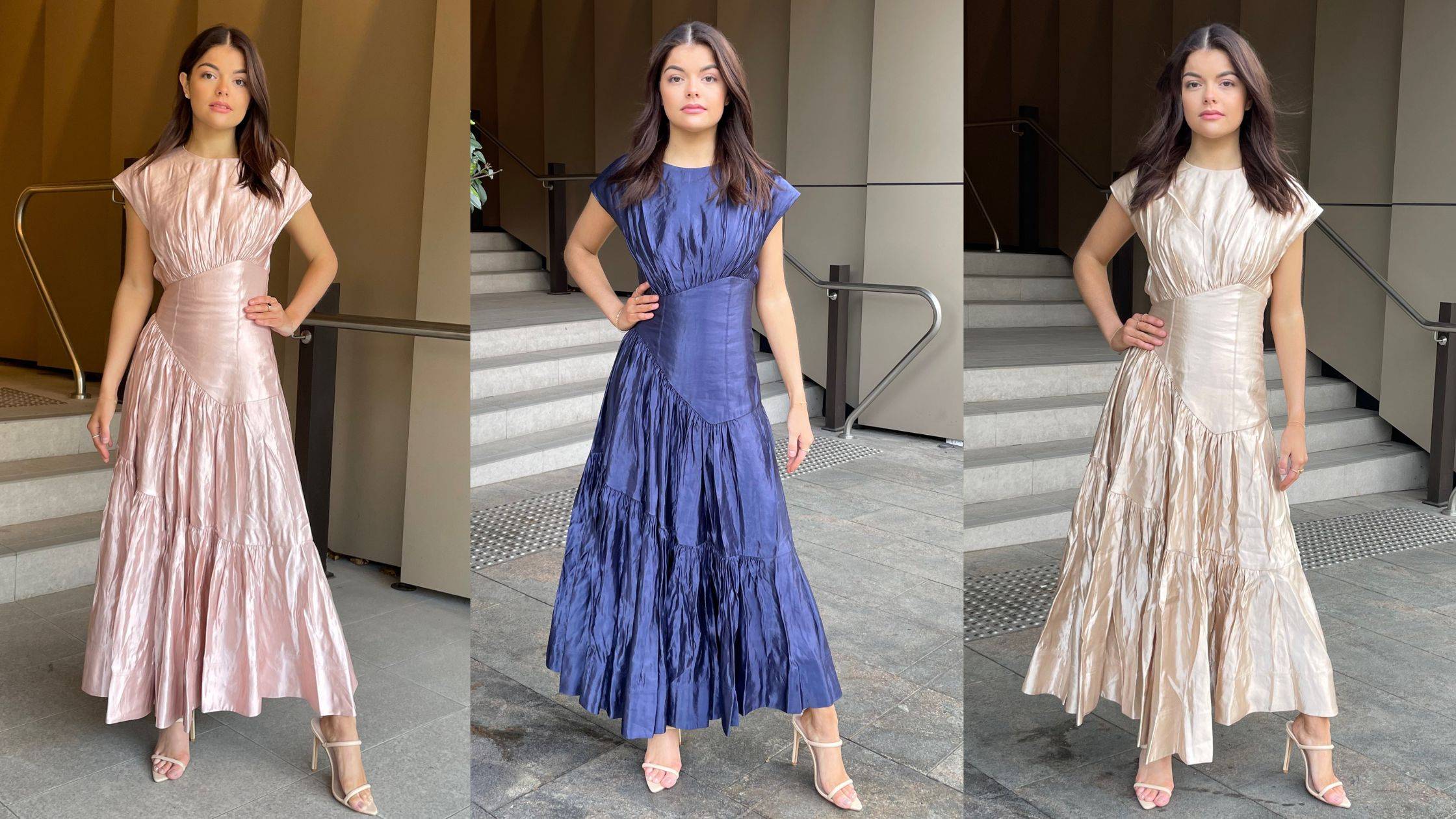 The Lexi Aurea Dress is a gorgeous one shoulder style in a stunning mango orange colour. This dress features cut-outs at the bodice which accentuate the waist and gives a flattering fit. Crafted in a georgette material, this dress drapes beautifully across the body into a flowing skirt with a thigh high split. This dress exudes luxury and elegance which is exactly what you need for your bridesmaids. The warm tones, make it easy to include in your colour scheme for a summer or spring wedding.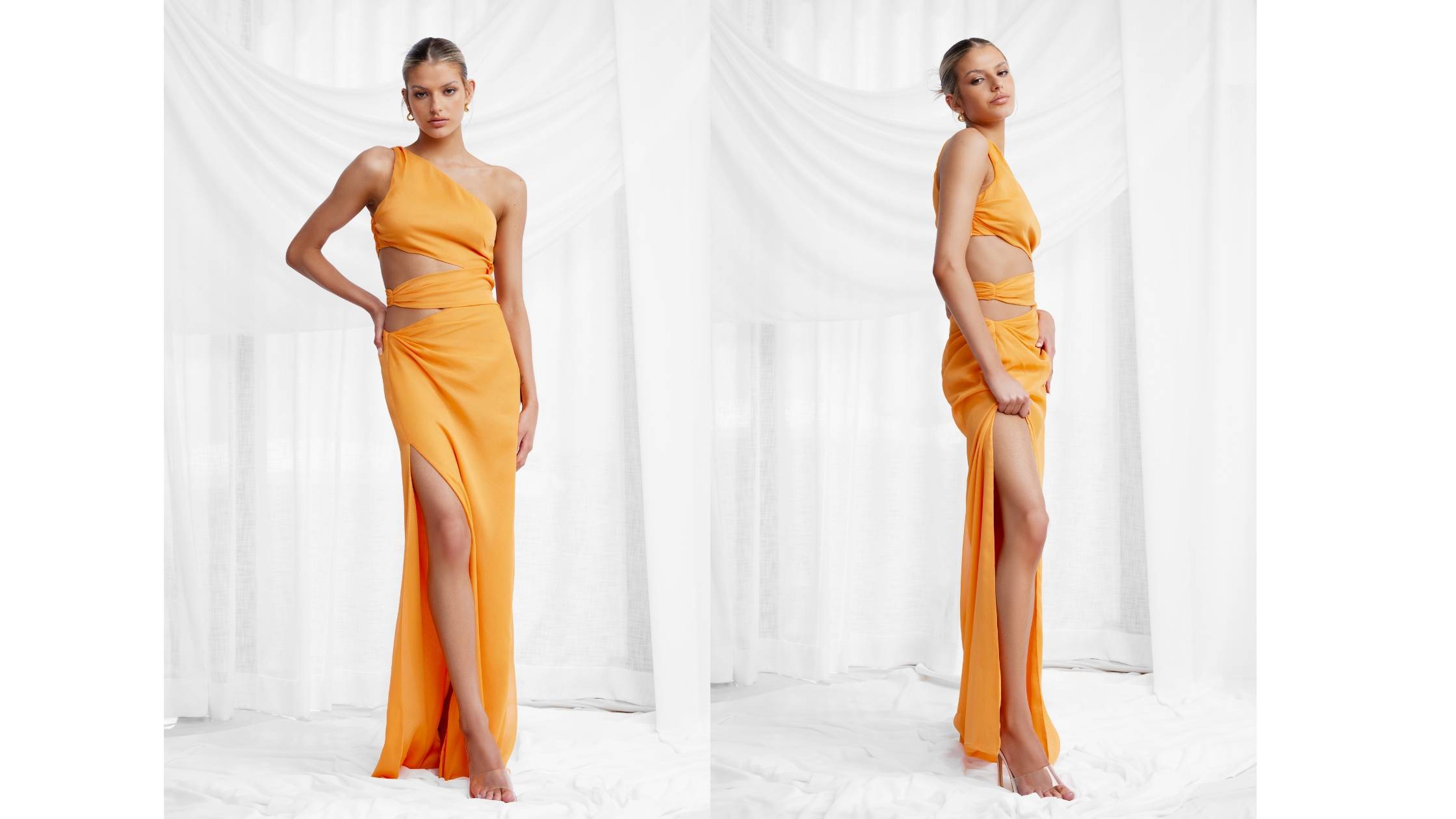 The Lexi Romy Dress is a romantic style with free flowing silk layers. This dress features a beautiful low back with a tie detail that can loosely knotted or finished with a bow. This dress makes a gorgeous bridesmaids dress during the warmer seasons as the colours raspberry red and teal blue are vibrant to perfectly complement the venue and environment.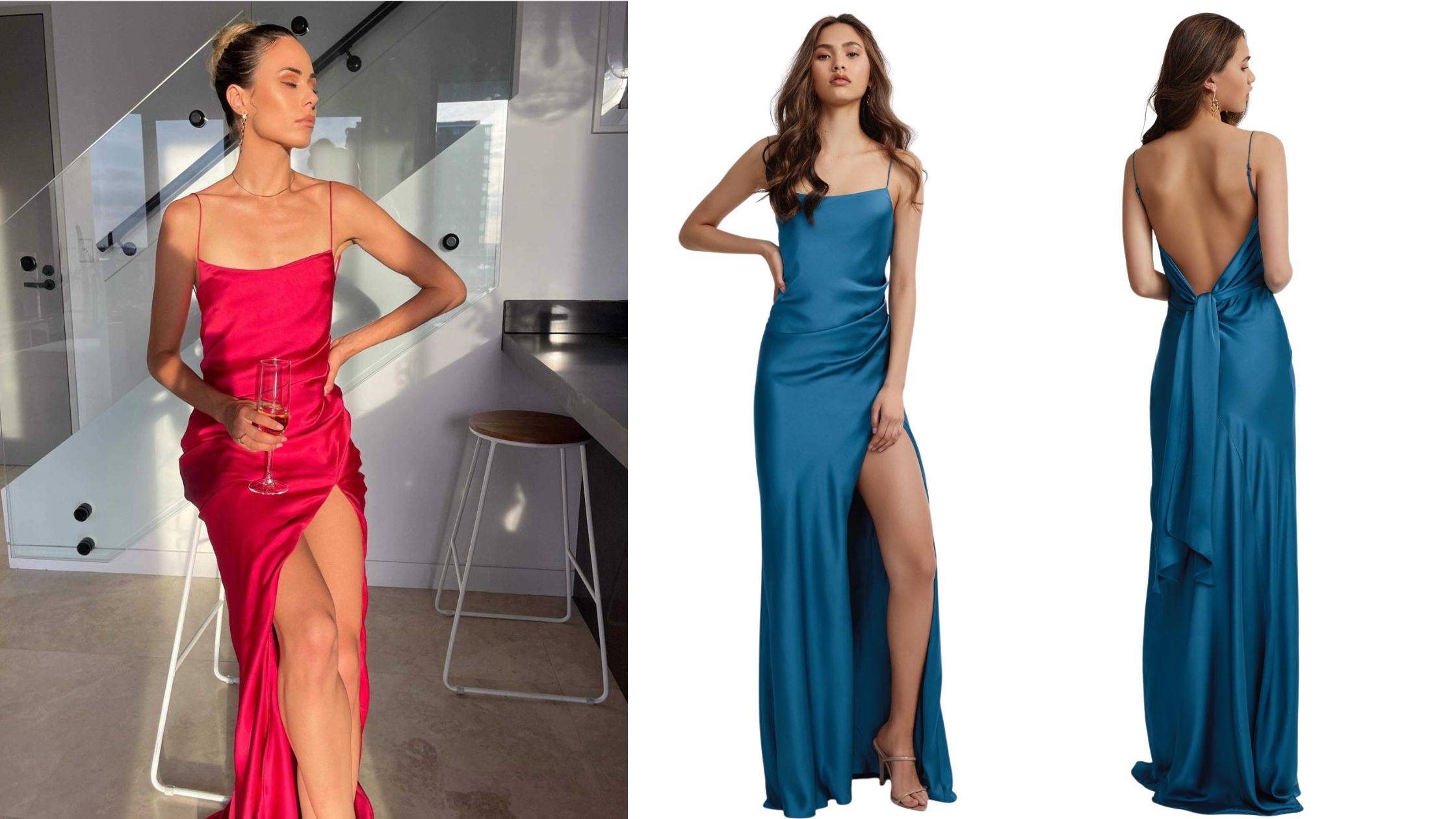 The Lexi Alzira Dress is a stunning strapless formal gown that features Lexi's signature thigh high split and ruching at the waist. In a gorgeous vibrant teal blue, this dress complements all skin tones and hair colours so beautifully. The draping material around the body gives a flattering silhouette. This vibrant teal would make the perfect bridesmaids dress for weddings during the warmer seasons.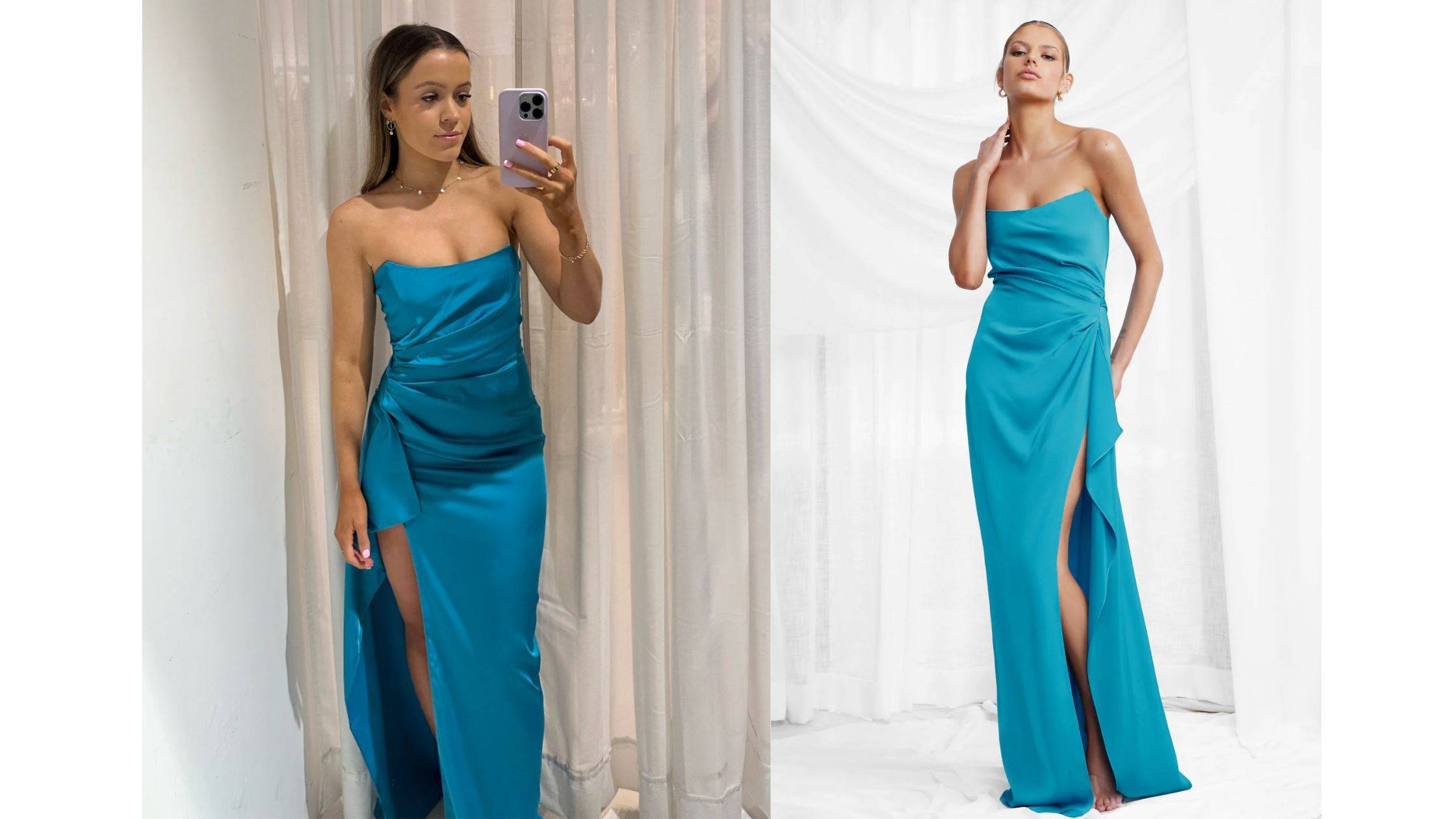 ---
Finding Your Perfect Bridesmaid Dress